Telecommunications
As global 5G deployment accelerates, multi-access edge computing (MEC) is playing an essential role in helping to deliver on 5G commitments by significantly reducing latency, increasing connection speed, enhancing network security, and improving quality of service to end users. Leveraging the performance of 5G, GPU-based MEC solutions can effectively harness the power of Internet of Things (IoT), artificial intelligence (AI) and machine learning technologies to open up enormous opportunities with a wide array of applications including autonomous vehicles, connected cars, virtual reality (VR), augmented reality (AR), smart cities, smart transportation and smart manufacturing.
GPU-based 5G Edge Computing Solutions
In the era of 5G, MEC is an evolution of cloud computing, moving data processing from centralized data centers out to the network edge and closer to application end users. With the integration of MEC to effectively distribute networking demands, 5G's tremendously improved capabilities can handle an exponentially increasing number of connected devices, and enable a wide range of latency- and bandwidth dependent, cross-industry technologies and applications. GPU-based MEC solutions further bring superior data and graphic processing to enable critical, high-load applications that have a need for accelerated computing and faster time-to-decision.
By leveraging more than 20 years of expertise in developing highly reliable and available embedded computing systems, ADLINK is a premier supplier of extensive, cost-effective COTS, as well as fast time-to-market ODM solutions to worldwide tier-one telecommunications equipment manufacturers (TEMs). ADLINK's 1U/2U MEC servers MECS-6110 and MECS-7210, two new additions to its communication and networking product portfolio, are among the first platforms to fully comply with Open Telecom IT Infrastructure (OTII) defined by the Open Data Center Committee (ODCC). The two servers are both designed with dual full-height full-length (FHFL) PCIe expansion slots reserved for access to accelerated computing hardware such as GPU and FPGA. In one use case, a customer in the manufacturing industry deployed the MECS-7210 into the low-latency LTE/5G private network of its smart factory to effectively identify defective products and improve operational efficiency through a GPU-based, AI-enabled application.
GPU for Telecommunications
Telecommunications Platforms & PCIe Graphics Cards
Collateral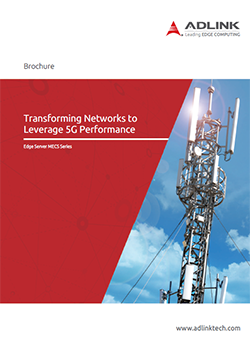 Brochure:
ADLINK MEC Servers - Transforming Networks to Leverage 5G Performance
Multi-access edge computing (MEC) is essential in enabling telecommunication operators to deliver on their 5G promises by significantly reducing latency, increasing connection speed, enhancing network security, and improving quality of service (QoS) to end users. With superior flexibility, interoperability and optimization in facilitating the 5G network transformation, ADLINK's industry-leading MEC servers provide an ideal platform to meet varying application and deployment requirements, and help service providers capitalize on enormous edge computing-enabled service opportunities in the era of 5G.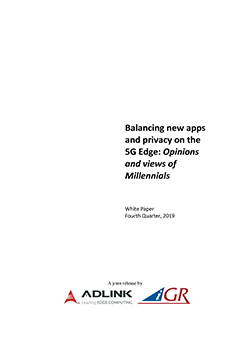 White Paper:
Balancing New Apps and Privacy on the 5G Edge: Opinions and Views of Millennials
Jointly released by by ADLINK and iGR, this white paper measures interest in several specific 5G services and applications based on a survey of U.S. mobile users between the age of 18 and 34, an age group that has grown up with wireless service and mobile apps and will drive the adoption of 5G. The white paper also details the customers' interest in a range of services in retail, transportation, entertainment and personal/public safety, and their privacy concern in regards to each of the 5G services.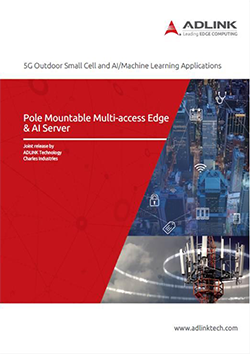 Solution Brief:
Pole Mountable Edge Server for 5G Outdoor Small Cell and AI Applications
Emerging applications such as autonomous vehicles, AR/VR, smart city, and smart transportation driver the need for a myriad of small scale or micro data centers located close to the data being generated. Extended temperature hardened servers protected in environmentally sealed and cooled enclosures are vital to enable these applications to provide successful operation for providers and users. ADLINK and Charles Industries have teamed to provide an industry-leading outdoor pole-mountable AI MEC solution by integrating the Charles Micro-Edge Data Center enclosure with ADLINK's MEC server.