Rail Transportation
Artificial intelligence (AI) technologies are being adopted globally by practically all industries to drive efficiency, improve productivity and reduce costs; the rail industry is no exception. Fueled by intelligence from AI driven systems and applications, railway operations are becoming safer, smarter and more reliable, significantly enhancing passenger travel experiences and freight logistics services.
GPU-based Rail Transportation Solutions
For rail transportation, AI can provide improvements such as fast and convenient ticket-free check-in, accurate arrival-time predictions, personalized infotainment and onboard services, real-time track heath diagnostics, and rapid response in an emergency. As a premier supplier to the rail industry, ADLINK has been helping leading rail system integrators worldwide gain competitive advantages by allowing them to focus their development efforts on differentiating their end applications. ADLINK is now bringing a range of GPU-based embedded products to the market that will blend the advantages of NVIDIA's graphics speed, power efficiency, and software stack with ADLINK's proven dedication to best of breed edge computing and IoT solutions, enabling rail system integrators to develop a variety of advanced AI-driven applications for train control, rail signaling and automation.
The latest addition to ADLINK's rail product portfolio is the rugged, fanless intelligent platform AVA-5500. Integrated with an NVIDIA® Quadro® GPGPU MXM module, the EN50155-certified AVA-5500 provides an ideal edge solution for real-time video/graphic analysis applications including passenger information systems, railroad intrusion detection, train station surveillance, onboard video security, and railroad hazard detection that are all vital to today's increasingly complex railroad operations. ADLINK's AVA-5500 is being deployed commercially by leading rail system integrators worldwide. In one application, the intelligent platform is installed on special rail inspection trains to process captured images of key wayside equipment in real-time. With a sophisticated algorithm driven by parallel computing and deep learning, the application can effectively identify potential equipment faults at a train speed of 120km/h, and raise the alarm to notify maintenance crews of any irregularity. In another application, the AVA-5500 is used in a train station control office to analyze the real-time video stream received from the platform. The application is able to detect suspicious behaviors and trigger alerts, and is used to conduct post-event analyses.
GPU for Rail Transportation
Rail Transportation Platforms & Embedded MXM GPU Modules
AI-enabled Video Analytics Platform Driving Smarter Operations for Railways, Airports & Oil Drilling
With an integrated NVIDIA Quadro GPGPU module and certified to EN50155, ADLINK's AI-enabled Video Analytics Platform AVA-5500 is designed for both wayside and onboard deployments with its wide range DC input and rugged, isolated I/O design, providing an advanced edge computing solution for real-time video/graphic analysis applications that are vital to today's increasingly complex railroad operations. The AVA-5500 delivers value by combining ADLINK's industry-grade rugged design with our expertise in AI, Edge Computing and IoT.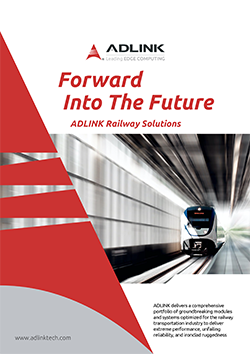 Collateral
Brochure:
ADLINK Railway Solutions - Forward Into the Future
Trains and railways remain a vital component of infrastructures around the world. As a new decade begins, public and private rail transit providers can invest in a variety of computing equipment for deployment in railcars, terminals, and other areas critical to railway operations. As a premier supplier to the rail industry for decades, ADLINK is spearheading new innovations by leveraging its field-proven reliability and leading technologies in AI, IoT, and edge computing to drive smarter and safer rail operations.