Data to Decision: ADLINK understands and is committed to providing the platforms that can Collect | Store | Analyze | Share, to enable the transformation from Data to Decision.

In 2010, Lt. Gen. David A. Deptula, then Air Force deputy chief of staff for intelligence, surveillance and reconnaissance was quoted as saying: "We're going to find ourselves in the not too distant future swimming in sensors and drowning in data." Not only has the number and types of data sources been increasing but the resolution of those sensors has also been increasing, causing a deluge of data to become available across the Defense arena.
Better sensors may provide increased local situational awareness, however the big gains will come from being able to fuse all of the available data into a coherent picture of enemy combatants, over huge areas and extended periods of time.
The military can neither afford the manpower nor tolerate the latency of having all the intelligence data reviewed and analyzed manually. Fortunately, as has often been the case, commercial technology is undergoing a similar parallel transformation based on a similar exponential explosion of data.
ADLINK is at the forefront of the Industrial Internet of Things, with local sensor processing nodes, communication infrastructure, Fog and Cloud Computing, and software to securely harness the data generated and processed by this distributed system. Many of these ADLINK products are also relevant to the Defense market, each being suitable in a particular deployment environment.
ADLINK's wide product portfolio is well suited to deployment in military systems; from small low power modules, through rugged form factors, to Cloud server platforms, ADLINK products serve the entire Data to Decision chain.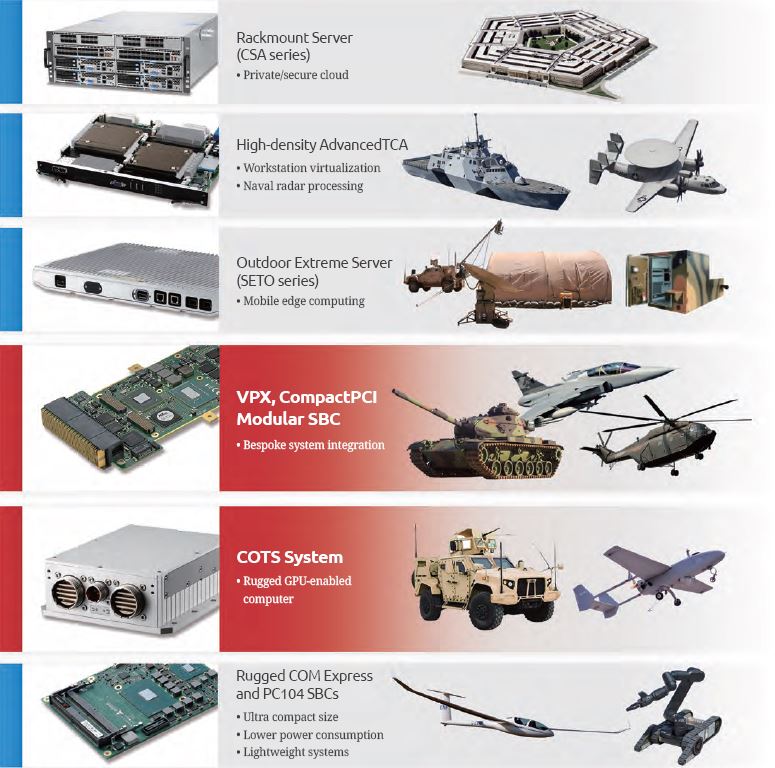 Being a Premier member of the Intel® Internet of Things Solutions Alliance gives unrivalled access to processing technology. As each CPU technology generation brings increased processing capability for broadly the same electrical power, the capability to deploy greater complexity of applications within a constant SWaP budget increases.This in turn can fuel the increase in sensor numbers and resolution; the platform can process the sensor stream in real time to extract and disseminate only data of known value, rather than requiring the whole data stream to be transmitted.
In addition to Intel's relentless roadmap, other technology providers offer complementary and alternative techniques. For example, NVIDIA's many-core GPUs have transformed some areas of sensor processing, including radar, wide-area surveillance, and hyperspectral imaging, due the inherent suitability of parallel processing on those data sets.While this parallel processing paradigm has rapidly increased the processing capability within a given SWaP envelope, the real gains are yet to be exploited – the advent of Deep Learning will likely power the next wave of systems capabilities.
Many military programs are already mandating the use of an abstraction mechanism to simplify the dissemination of data, and to provide future-proofing to vehicle programs. The US VICTORY and UK Generic Vehicle Architecture initiatives are such examples, utilising the Open Management Group's Data Distribution Service (DDS) as the foundation of data transmission. DDS provides abstraction of both the data type, and the means of disseminating the data, and is at the heart of ADLINK's Vortex software suite. With a publish-subscribe mechanism based on security rules, new equipment can be easily added to an existing system, advancing its capability and reducing through-life costs.