Restricted Area
Tanker Stability
Safety Equipment
Accidents while Unloading Hazardous Chemicals
Chemical materials are widely used in many industrial production processes, such as those for semiconductor chips, panel displays and printed circuit boards (PCBs). Tanker trucks are one of the most common and efficient ways for chemical manufacturers to deliver liquid and gaseous chemicals to industrial fabrication plants. The chemicals can be corrosive, explosive, flammable and toxic. A leak of hazardous chemicals could cause long-term damage to the personnel and the environment. However, being a human, tanker truck drivers and storage tank operators inevitably make mistakes and get distracted during the unloading process. According to an analysis of over 1,600 hazardous chemical accidents, 65% accidents are exclusively or partially attributed to human errors.
As deep learning technology matures, AI-enabled machine vision solutions, including IP surveillance and industrial smart cameras, can now monitor the whole chemical unloading procedure and detect abnormal events before human-factor accidents happen. IP surveillance combined with AI Network Video Recorders (NVRs) offer installation flexibility, but transmission latency is an unsolved challenge. Industrial smart cameras with integrated machine learning algorithms are now feasible and have been deployed by first-tier industrial fabs in Taiwan to prevent human-error incidents.
Deployment of AI Vision Solution for
Monitoring Unloading of Hazardous Chemicals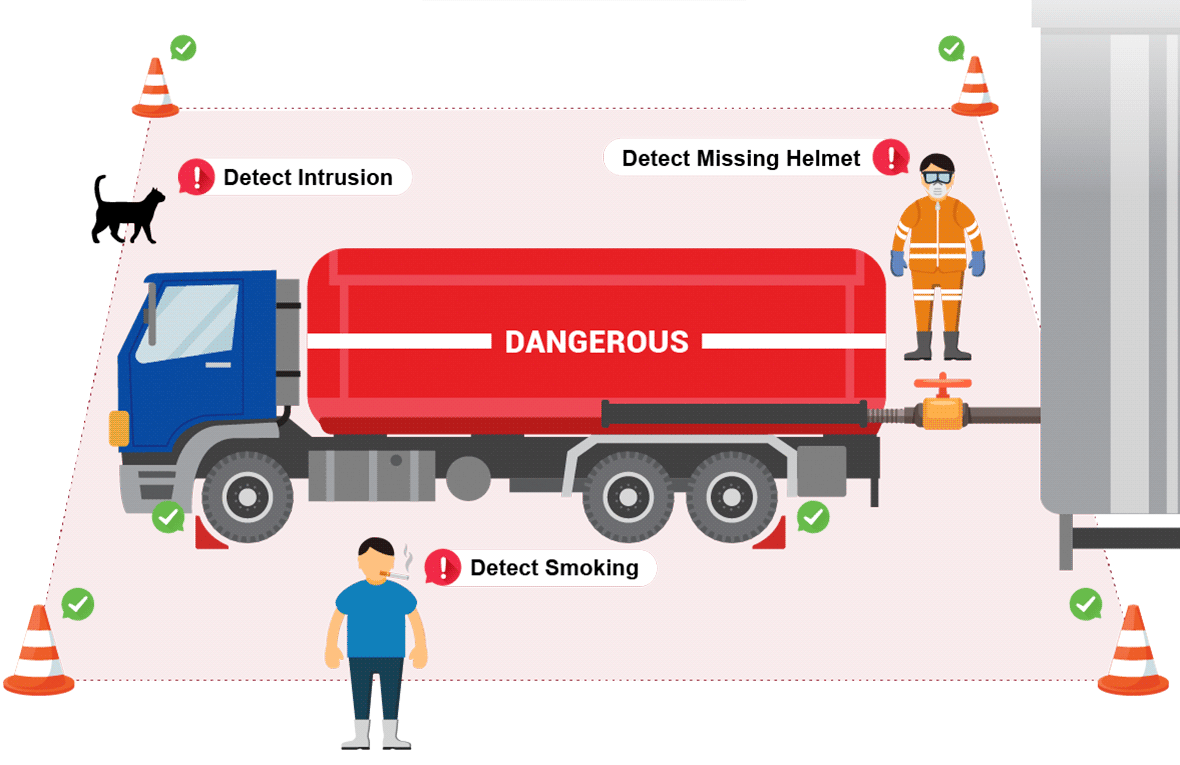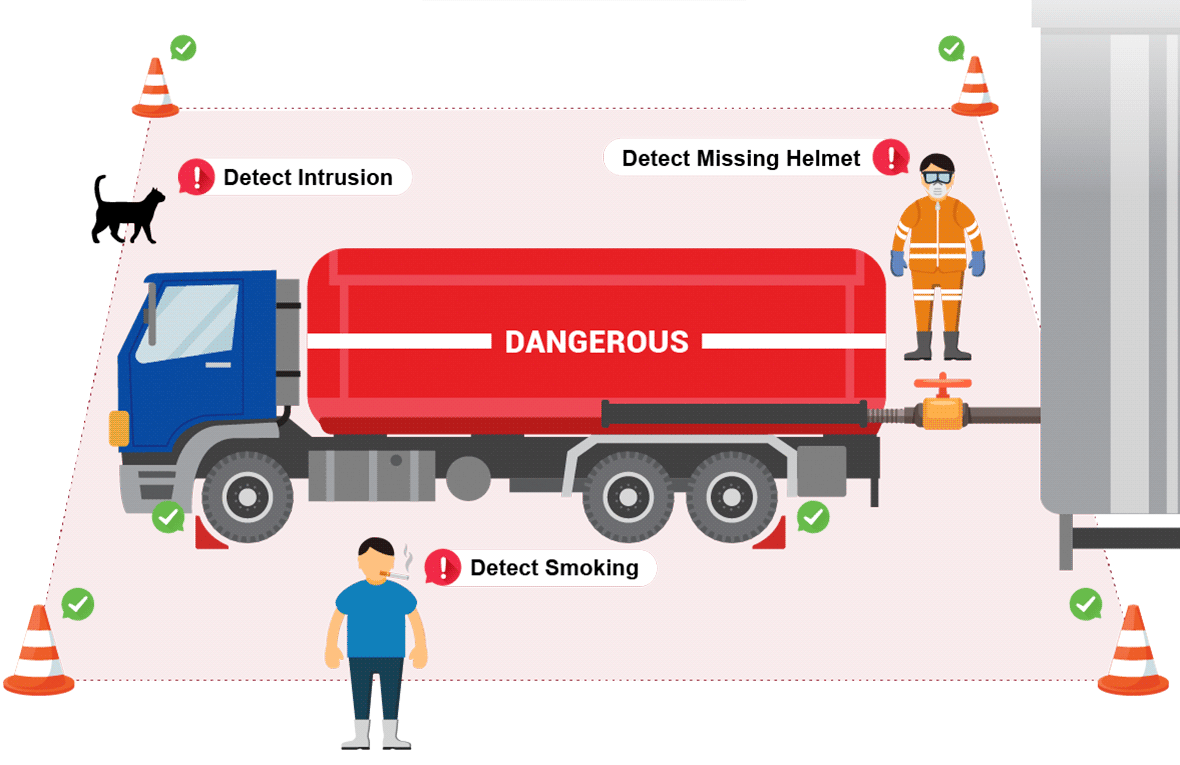 AI Vision Solution for
Monitoring Human-error Events
IP Surveillance
+
AI Server
VS.
AI Smart Camera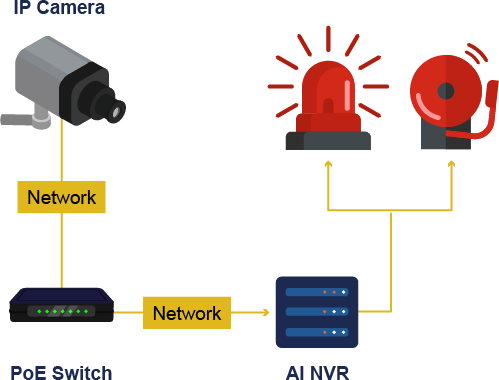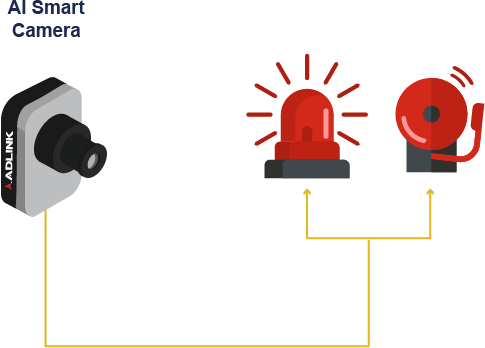 DeploymentFlexibility
Requires complex, long distance cabling to connect IP cameras, PoE switches, AI NVR and alarm devices.

DeploymentFlexibility
With industrial DIO, only requires a cable to connect NEON AI smart camera and alarm devices.

TransmissionLatency
Image transmission from IP camera to AI NVR relies on network bandwidth. Transmission latency may exceed 1 second and result in accidents.

TransmissionLatency
Image analysis is completed immediately on NEON smart camera. Upon any abnormal events in the liquid chemical offloading zone, the NEON AI smart camera will trigger a command to the alarm devices.

ImageProcessing Efficiency
Video compression is a standard process of IP surveillance for enhancing video transmission efficiency. Incoming video streams consume valuable graphics processing resources of AI NVR for video decompression instead of AI inferencing.

ImageProcessing Efficiency
Eliminates video encoding and decoding processes by using high-definition raw image data from MIPI or USB3 image sensor, resulting in higher inferencing accuracy and higher frames-per-second with lower latency.

Advantages of the NEON AI smart camera
All-in-one design for easy deployment
NEON integrates Intel® Movidius™ or NVIDIA® Jetson™ AI vision processing cores, a wide range of image sensors, optimized OS, and rich I/O for vision applications in a palm-sized chassis to minimize cabling complexity and installation space requirements.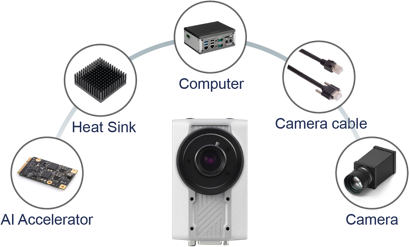 Worry-free reliability for industrial applications
In addition to strict validation tests for EMC, ESD, shock, vibration and thermal dissipation, NEON also supports IP67 for harsh industrial environments.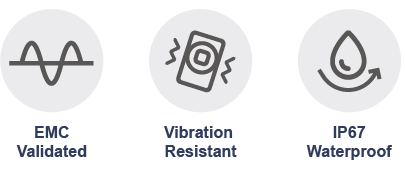 Optimized software environment for faster development
NEON is pre-installed with optimized operating system, software, and Edge Vision Analytics (EVA) SDK with graphical user interface for creating an AI pipeline. EVA SDK supports NVIDIA® TensorRT™ and Intel® OpenVINO™ AI inference engines, as well as field-ready application plugins for streamlining AI vision project development time in less than 2 weeks.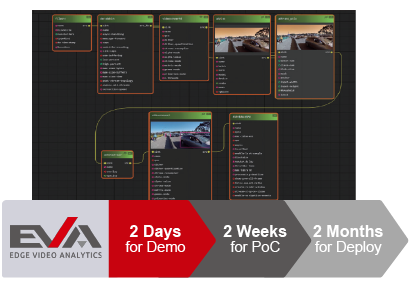 NEON AI smart camera
NEON-1000-MDX

NEON-2000-JT2

NEON-2000-JT2-X

NEON-2000-JNX

Computing
Platform
Intel® Movidius™
Myriad™ X MA2485
Navid® Jetson™ TX2
Navid® Jetson™ Xavier NX
Processor
Intel Atom® x5-E3930
ARM® Cortex-A57
and NVIDIA Denver 2
6-core NVIDIA truckmel
ARM®v8.2 64-bit CPU
GPU
-
256-core NVIDIA Pascal™GPU
384-core NVIDIA
Volta™GPU with
48 Tensor Cores
VPU
Intel® Movidius™
Myriad™X MA2485
-
-
-
Memory /
Storage
4GB / 32GB eMMC
8GB LPDDR4 /
32GB eMMC


(integrated with TX2 module)

8GB LPDDR4 /
32GB eMMC


(integrated with TX2 module)

8GB LPDDR4 /
16GB eMMC


(integrated with NX module)

Image
Sensor
ON Semiconductor AR0134, 1.2M resolution, H1280 x V960, 54 FPS
e2v EV76C570, 1.9M resolution, H1600 x V1200, 60 FPS
ON Semiconductor MT9P031, 2M resolution, H1920 x V1080, 30 FPS
ON Semiconductor MT9P031, 5M resolution, H2592 x V1944, 14 FPS
Ingress
Protection
-
-
IP67 with M12
connector
-
Dimension
(H x W x D)
123.3x77.5x66.81mm
123.3x77.5x66.81mm
137.7x79.5x122.85mm
123.3x77.5x66.81mm