Military & Aerospace
In the battlefields of the twenty-first century, one of the most definitive factors behind military victories is the ability to aggregate very large amounts of data to be processed into insightful, actionable results. With the ability to harness the potential of big data, artificial intelligence (AI), and IoT technologies, GPU-based computing solutions play an increasingly important role in modern military and aerospace applications, enabling forces to process enormous quantities of raw data more quickly and dependably for faster decision making than was previously possible.
GPU-based Military and Aerospace Solutions
General-purpose computing on graphics processing units (GPGPU) represents perhaps the most revolutionary leap in computer processing capability in decades for military and aerospace applications. Not only does GPGPU offer advanced graphics rendering and massively parallel processing, but its capabilities in AI, machine learning and deep learning also are just beginning to be explored. With potentially hundreds, and even thousands of separate processing cores, GPUs are transforming mission-critical applications including digital warfare, radar processing, situational awareness, target tracking and software-defined radio (SDR) by delivering significant increases in computing performance with minimal programming complexity.
As a premier supplier to the aerospace and defense industry, ADLINK enables end-to-end, data-to-decision solutions for land, sea, and air deployments by providing military standard compliant, cost-effective COTS/MOTS products. With the proven reliability of Ampro (acquired by ADLINK in 2008) and the decades of experience in developing computing solutions for the toughest environments, ADLINK is on the fast track to expand its already extensive military and aerospace portfolio by adding a range of GPU-based solutions.As an NVIDIA's Quadro Embedded Partner, OEM Preferred Partner and Jetson Elite Partner, ADLINK has unique access to the highest levels of technical support to help meet the demanding design, production, and product lifecycle requirements of the defense industry. As size, weight, and power (SWaP) remain at a premium in many mission-critical applications, ADLINK focuses on developing GPU-based solutions, in both chip-down and modular designs, over an array of small form factors (SFF) covering PC/104, COM Express, CompactPCI, VPX and rugged box platforms to deliver superior processing, I/O density, thermal efficiency and affordability.
GPU for Military & Aerospace
Military & Aerospace Platforms & Embedded MXM GPU Modules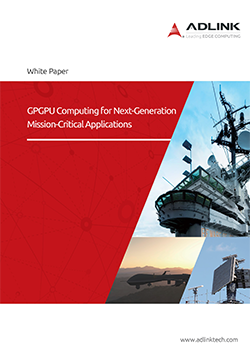 Collateral
White Paper:
GPGPU Computing for Next-Generation Mission-Critical Applications
Leveraging GPGPU computing's ability to introduce critical high-load applications to many arenas from cybersecurity to transportation logistics to target identification, AI is now permeating an increasing array of military, aerospace, industrial, and similar market applications. This white paper introduces the evolution of GPU technologies, the impact of increasing adoption of GPGPU computing over today's mission-critical applications, and ADLINK's fast-growing GPGPU embedded solutions that enable a wealth of applications driven by AI, machine learning and IoT technologies.