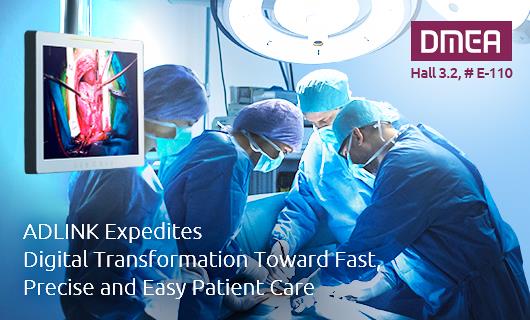 ADLINK Technology, Inc., a leader in Edge Computing, will showcase its latest series medical computing solutions to simplify digital transformation of healthcare at DMEA 2019, Berlin, Germany, from 9 to 11 April 2019 on the Berlin Exhibition Grounds in Hall 3.2, Booth E-110.

"Digital transformation with benefits of improved efficiency and quality of patient services and care is sweeping the healthcare sector. Under the grand plan for digitization, ADLINK's series medical computing solutions with rising connectivity standard and touch technology offer superb performance, precise operation, simplified cabling and easy cleaning to facilitate information integration to expedite the transformation," said Walter Steinbeißer, Managing Director at ADLINK.

At DEMA 2019, ADLINK will showcase its series of medical class I certified computing and connectivity solutions including MLC 8 Series all-in-one medical panel computers, HDBaseT™ transmitters and receivers, and the medical control tablet MCT-116.

MLC 8 is ADLINK's latest generation of class I certified all-in-one medical panel computers. Combining functionality, practicality and aesthetics, MLC 8 is designed with enhanced visibility and patent-pending, fully-sealed screwless aluminum housing to streamline patient care in clinical environments. MLC 8 supports both portrait and horizontal view for patient's vital sign monitoring, nursing care, clinical diagnosis, PACS (Picture Archiving and Communication System), anesthesia monitoring and operating room documentation while allowing infection control and 25% decrease in cleaning time for higher patient room and operating room turnover. Moreover, MLC 8 offers extensive I/O flexibility, function expansion, and manifold configuration options to meet requirements for image acquisition, storage, connectivity, budget and more.

Next to MLC 8 will be ADLINK's medical connectivity devices integrating the HDBaseT technology, the global standard for delivering ultra-high-resolution video and audio, Ethernet, USB, control signals, and up to 100W of power over a single category network cable. "With simplified cabling, HDBaseT enables reliable high-throughput long-range data transmission in real time, making 4K videos, high-resolution medical images, and cross-system information integration possible for fully digital integrated healthcare and thus improving workflows and patient experience," said André Fortdran, chair of the HDBaseT Alliance Medical Work Group and Product Marketing Manager Medical at ADLINK.

Also staged will be the MCT-116 medical control tablet PC designed to enable mobility and flexibility in controlling medical devices in the congested OR environment, to allow for point-of-care data acquisition and management or to substitute other bulky and heavy computing platforms. The MCT-116 was developed for tough clinical environments and was made of components with high durability to ensure greater product longevity.