Revolutionize Your Edge AI Solution
with NVIDIA® Jetson™ Orin
Empower the Future of AI with NVIDIA® Jetson™ Orin Modules!
With up to 275 TOPS of AI performance, NVIDIA Jetson Orin modules enable real-time processing of complex neural networks and computer vision algorithms. Its power efficiency, versatility, scalability, and robust software ecosystem make it the ideal choice for AI and machine learning applications at the edge. Discover how ADLINK's Edge AI Platforms and NVIDIA Jetson Orin modules can transform your AI solutions today.
The NVIDIA Jetson AGX Orin modules are a true powerhouse, delivering an astounding 275 trillion operations per second (TOPS) of AI performance. That's eight times more than its predecessor, the Jetson AGX Xavier modules, which can deliver only 32 TOPS. The Jetson Orin NX modules are a cost-effective upgrade option that provides up to 3 times more AI performance than the AGX Xavier. With unparalleled processing capabilities, the AI performance of Jetson AGX Orin and Jetson Orin NX enables developers to build more complex and capable autonomous machines.
The NVIDIA Jetson Orin modules are now more power efficient with a maximum power consumption of 60 W, twice that of the previous Jetson Xavier's 30 W. Although it may seem like a downside, this actually has various advantages. The heightened efficiency of the Jetson Orin modules translates to a substantial increase in processing power as compared to the Jetson Xavier modules. This makes it possible to replace multiple Jetson Xavier devices, boosting productivity and cost savings. This not only streamlines the development process but also reduces overall power consumption in autonomous machines.
The remarkable Jetson Orin modules excel in performance, delivering manifold AI prowess, making them capable of replacing numerous Jetson Xavier appliances. This solution improves performance, simplifies development, and reduces hardware costs. High-performance computing has become more accessible than ever before due to its enhanced performance. Industries that require cutting-edge features find it highly appealing due to its impressive computing power packed in a compact size.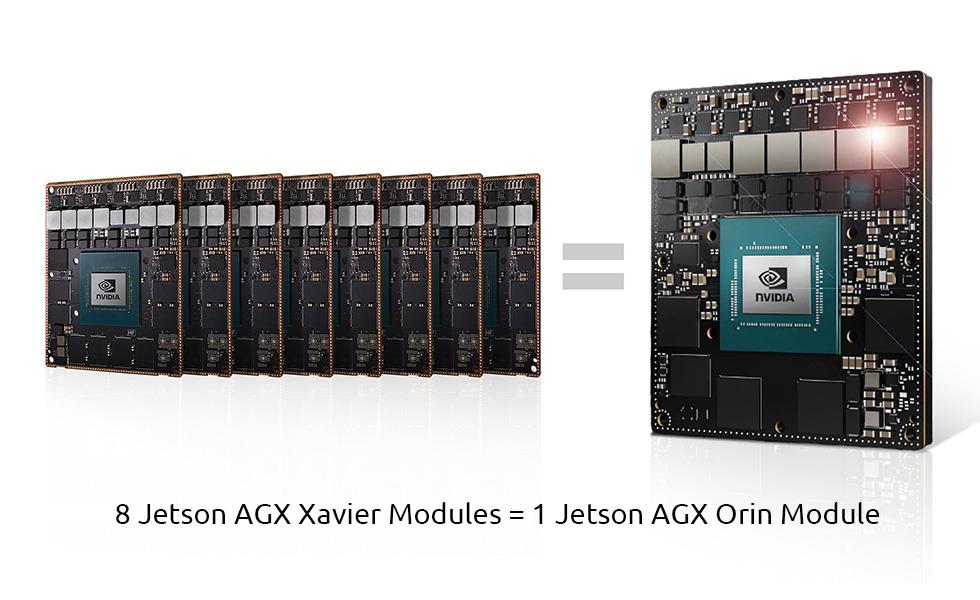 The Jetson Orin modules represent a breakthrough with an impressive 800% enhancement in AI capability compared to the Jetson Xavier modules. This empowers it to seamlessly manage multiple cameras and sensors while rapidly transmitting data. The sheer versatility of this technology makes it an outstanding option for a myriad of applications that span various industries. From aquaculture and self-service systems to cutting-edge autonomous security robots, the ability to process data in real time is critical.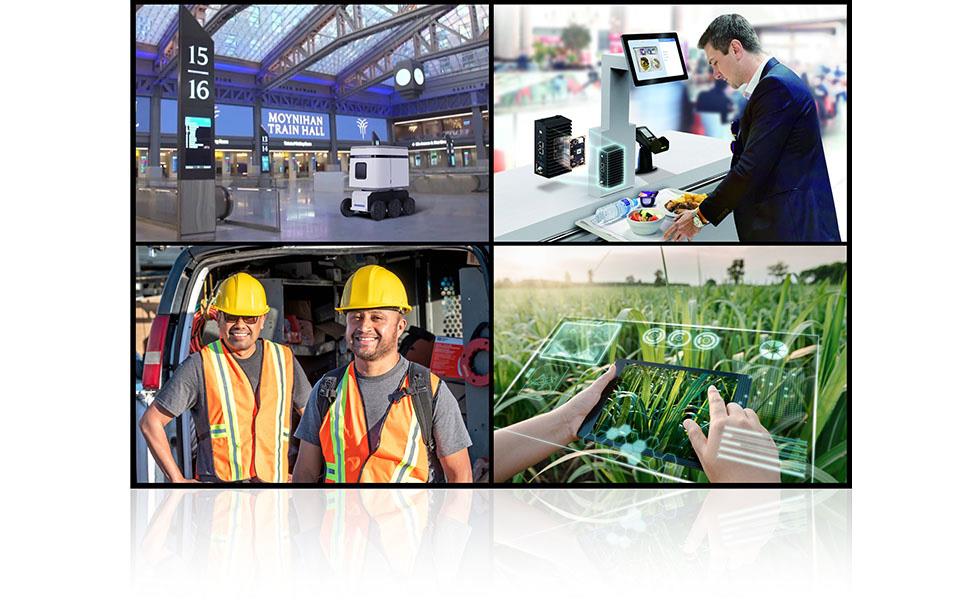 Offerings
ADLINK, a leading provider of edge computing solutions, has announced the latest addition to its family of edge AI platforms. The new platforms come in two product lines: DLAP (Deep Learning Acceleration Platform) and ROScube (ROS 2 enabled Robotics Controller). The DLAP line comprises two new models - DLAP-211-Orin NX and DLAP-411-Orin, while the ROScube line comprises the new RQX-59 Series. Jetson Orin has revolutionized the field by providing exceptional performance and energy efficiency, which not only streamlines the development process but also results in lower hardware expenses. This makes it a compelling option for a vast range of industries looking for cutting-edge solutions.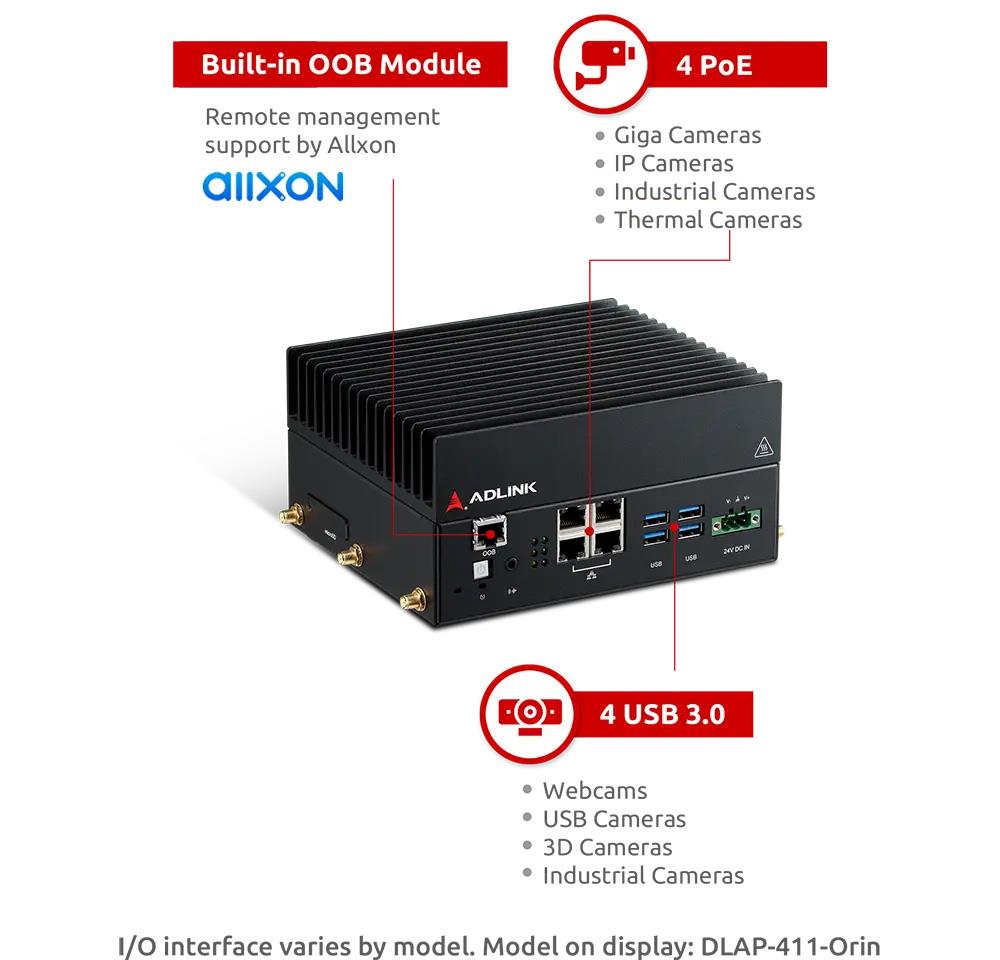 DLAP is a powerful series of edge AI platforms that harness the potential of deep learning acceleration. It comprises a diverse collection of devices that utilize Intel CPUs and NVIDIA SOMs, providing unparalleled performance for deep-learning inference. These devices are suitable for assorted AI projects, such as industrial automation, retail, transportation, farming, road safety, and public security. The latest DLAP models can now support even more I/O interfaces and hardware integrations with exceptional AI performance thanks to the superior performance of Jetson Orin modules.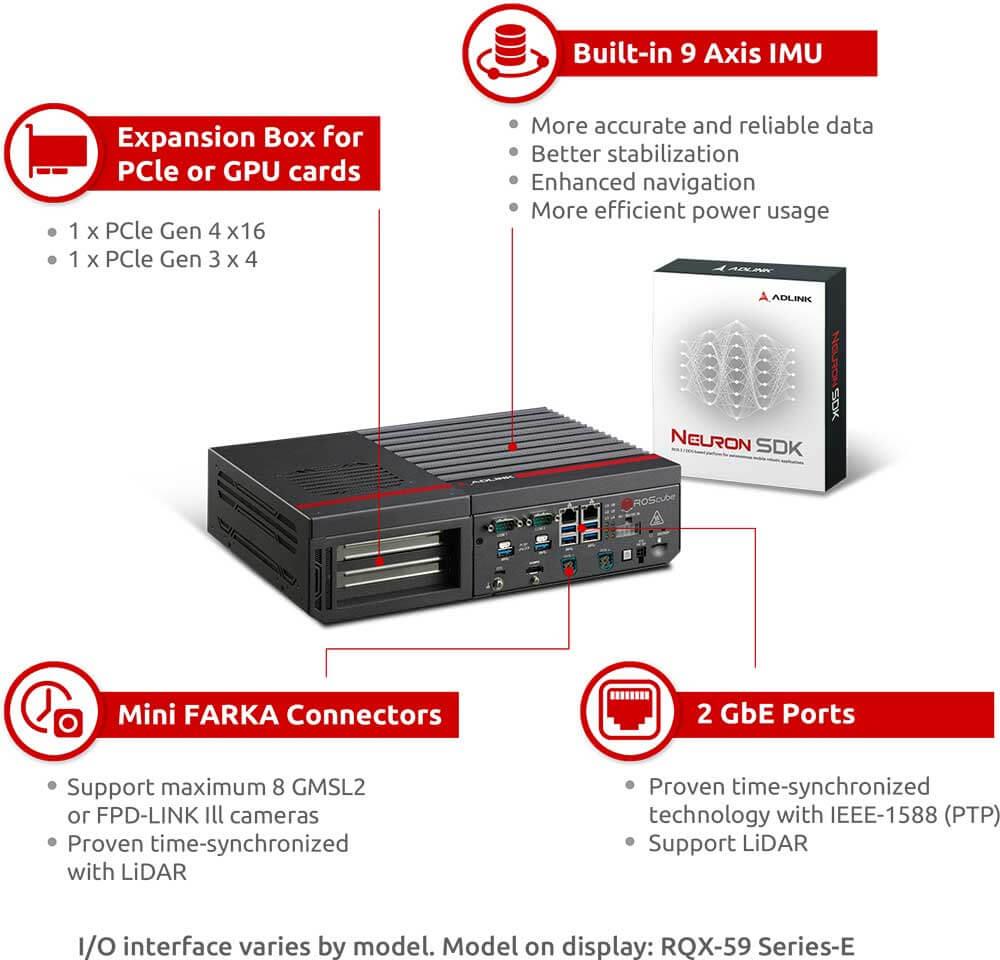 The ROScube is a highly versatile and modular robotic controller family, as a part of the embedded edge AI platforms, designed for advanced AI computing in robotics and autonomous driving solutions while consuming minimal power. The ROScube family provides full compatibility with resources created using NVIDIA JetPack SDK and ADLINK's Neuron SDK, ensuring smooth integration with the Robot Operating System (ROS). Embedded with NVIDIA Jetson AGX Orin modules, along with numerous interfaces and expansion options, ROScube RQX-59-Series can be effortlessly tailored to cater to the distinct needs of a diverse range of advanced robotic applications while utilizing the fewest number of devices possible.