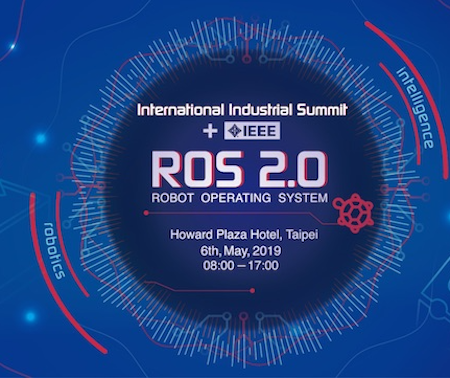 ADLINK Technology, Inc., a global provider of leading Edge Computing, will co-host the 2019 IEEE International Industrial Summit on Robot Operation System 2.0, Taiwan's first ever large-scale ROS 2 event, on May 6, 2019 at the Fuhua Hotel in Taiwan. Keynote speakers include Brian Gerkey, CEO of the Open Source Robotics Foundation and many other well-known industry experts representing interests such as Intel, Microsoft, AWS, NVIDIA, and many others. Together, they will illustrate the abundant opportunities provided by ROS 2 to revolutionize the new era of global industry.

ROS 2.0's operational design structure improves on the previous ROS generation by integrating DDS (Data Distribution Service), as established by the Open Source Robotics Foundation (OSRF) in the US as an open-source operational framework for robotics. As new technologies and concepts are evolved, ROS 2.0 continues to revolutionize robotic operations and improve overall performance.

ROS 2.0 emphasizes an open-source development platform with universal structure, enabling robotics to navigate, manipulate, perceive, identify, and react accordingly. Developers can interconnect applications via ROS 2.0 based on industry standard DDS middleware. Integration of DDS capabilities into ROS 2.0 introduces true peer-to-peer communication among independent robotic system elements. DDS delivers enhanced stability and singular immediacy, ensuring inter-robotic communications where none were possible previously.

In the last decade, the development and application of intelligent robotics has attracted the attention of numerous developers, and with the onset of AI capability and Industry 4.0, AMRs, AMiRs, autonomous cars, service robots, and countless other embodiments of robotic function continue to thrive in manufacturing and logistics environments.

The 2019 IEEE International Industrial Summit on Robot Operation System 2.0 brings together internationally renowned experts and prominent academic figures. Delivering the keynote address on ROS 2.0, "What's next for ROS?" is Brian Gerkey, CEO and Co-founder of Open Robotics. "Cageless Cobots: The new wave in Robotics" will be presented by Dr. Giby Raphael, Director of Supply Chain and Manufacturing Optimization Segment for the Intel Internet of Things Group, Prof. Dr.-Ing. Ren C. Luo, Editor-in Chief, IEEE Transactions on Industrial Electronics will discuss "Exemplary ROS2 Best Practices –AI Based Image Caption and Semantic Mapping for Intelligent Service Robotics" as well as many other presenters.

With decades of experience in leading edge computing and industrial IoT solutions, ADLINK has developed a comprehensive hardware and software solution based on ROS 2.0 to assist developers and enterprises in the robotics field to accelerate integration of R&D, production and application industry chain to master the limitless business opportunities presented by intelligent robotics.