30% Increase
in Electricity Generation
Deployed in 800
Solar Power Plants
Certified by
Taiwan Power Company
Net zero emission has become a worldwide consensus and goal. According to the statistics of the Net Zero Tracker, more than 130 countries have pledged to reduce net carbon dioxide (CO2) emissions to zero. Taiwan also targets 2050 to achieve net zero carbon emissions. An aggressive transition to renewable energy, such as solar photovoltaic and wind power, is inevitable.
Renewable energy can be intermittent and unpredictable. Connecting photovoltaic power systems to the public electric grid may affect the stability of power in nearby areas. In order to efficiently manage massive and distributed photovoltaic power stations, Taiwan Power Company adopted the Distribution Renewable Energy Advanced Management System (DREAMS) to collect the production data of the distributed photovoltaic power stations. The DREAM system can dynamically predict and control the production of photovoltaic power stations to ensure the stability of the public electricity grid.

PAN-CO International Co., Ltd.
has abundant experience in deploying monitoring systems in more than 800 solar power plants. With the superior R&D capability and renewable energy monitoring patents, PAN-CO integrates high temperature modules, embedded communication modules, industrial computers and monitoring software to monitor numerous photovoltaic (PV) inverters in a single solar power plant.
PV-DREAMS Photovoltaic Power Monitoring System
The PAN-CO builds PV-DREAMS photovoltaic power monitoring system is based on the ADLINK MXE-210 series industrial IoT gateway and run a patented remote monitoring software. It is designed for photovoltaic power stations with more than 100kW capacity and meets the requirements of the Taiwan Power Company and National Communications Commission. The PV-DREAMS photovoltaic power monitoring system can connect to Taiwan Power Company's DREAMS system and provide 7x24 remote monitoring of photovoltaic power production status. It allows prompt troubleshooting and reduced loss of power production.
In the past, photovoltaic power monitoring systems usually adopted commercial gateways. However, solar power stations are located outdoors in areas with abundant sunshine and high temperatures. Commercial gateways can suffer from thermal shutdowns, leading to loss of power production and increase of operation costs. "Power generation and revenue are the major objectives of photovoltaic power plant operators," said Kun-Chang Kuo, President of PAN-CO. "ADLINK's industrial-grade MXE-212/PAN-CO photovoltaic power monitoring gateway can stably collect power generation data in harsh environments. When power generation is abnormal or the power generation efficiency drops due to soiled photovoltaic panels, having a complete set of power generation data allows the photovoltaic power plant to deal with it immediately. According to our statistics, the introduction of the PV-DREAMS photovoltaic power monitoring system can increase annual power generation and revenue of photovoltaic power plants by more than 30%." The improvement of solar power generation efficiency not only accelerates the return on system construction costs, but also makes photovoltaic power plant operators more willing to invest in building new power plants, which will also help accelerate the transition towards the goal of net zero emissions.
Deployment of PV-DREAMS Photovoltaic Power Monitoring System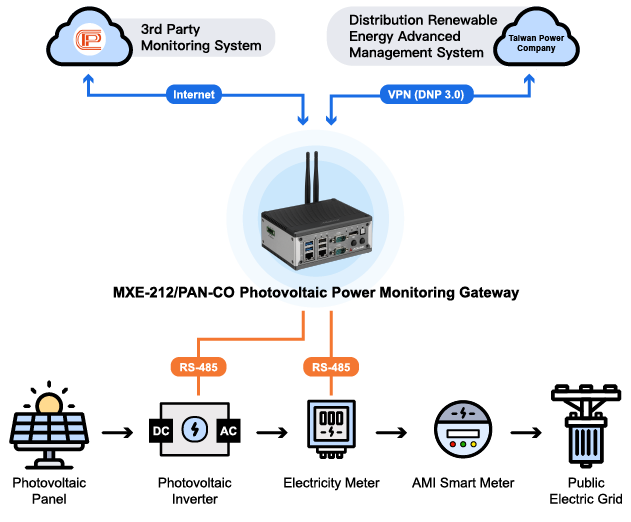 Advantages of PV-DREAMS Photovoltaic Power Monitoring System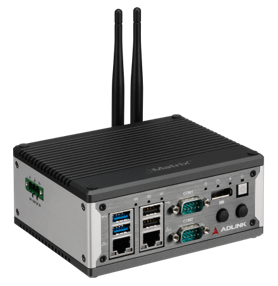 Designed for photovoltaic power stations with more than 100kW capacity
Fanless thermal design supports operating temperatures up to 75°C
5 year warranty
Automatic data synchronization after connection failure recovery
Compliant with DREAMS system
Certified by Taiwan Power Company, National Communications Commission and DNP3
MXE-212/PAN-CO Photovoltaic Power Monitoring Gateway Specification
| | |
| --- | --- |
| Processor | Intel Atom® x5-E3930 Processor SoC, 1.3 GHz, 2-core (formerly Apollo Lake) |
| Video | 1x DisplayPort 1.2 |
| Memory | 1x DDR3L 1600 MHz SODIMM 2 GB |
| Storage | 1x mSATA slot with Full Size Mini PCIe SSD 64GB (industrial grade) |
| 4G LTE | Sierra Wireless MC7430 |
| Ethernet | 2x GbE (Intel® I210IT) |
| Serial Port | 2x RS-232/422/485 |
| USB | 2x USB 2.0, 2x USB 3.0 |
| Mini PCIe | 2x Full Size Mini PCIe card slots |
| USIM | 1x USIM socket for 3G/4G LTE communication |
| WDT | Watchdog timer supported by SEMA |
| SEMA | SEMA 3.5 support with BMC |
| DC Input | 6-36 V DC |
| AC Input | 100-240 V AC, 50/60 Hz (MEAN WELL 90W AC/DC adapter) |
| Dimensions | 140 (W) x 110 (D) x 58 (H) mm |
| Weight | 0.95 kg |
| Mounting | DIN rail & wall mount (optional) |
| Operating Temperature | -20°C to 75°C |
| Humidity | Aprox. 95% @ 40°C (non-condensing) |
| ESD | Contact ± 4kV and air ± 8kV |
| EMC | CE & FCC Class B (EN61000-6-4/EN61000-6-2), compliant with EN50121 |
| Safety | UL, CB, CCC |