Autonomous Driving
This will be the decade of autonomous driving. Maybe not everywhere or for every occasion, but with electric vehicle adoption rising and self-driving algorithms on track to outperform human-driver safety, the world is ready for autonomous vehicles to go mainstream.
Accelerating Technology Innovation for Autonomous Driving
ADLINK envisions a world where people, places, and things are positively enabled with AI-driven capabilities. With autonomous driving, a host of software, sensors, communications, and reliable computing hardware meld with cutting-edge car design. The end results will be safer, more enjoyable travel and leaps in productivity. ADLINK is helping build this near future through extensive collaboration with leading industry partners and alliances, applying 25 years of experience in the embedded and rugged computing with expertise in open-source robotics, middleware and AI-centric, in-vehicle computing platforms. When the most qualified, accomplished groups come together to realize a shared vision, the roads open with unlimited possibility.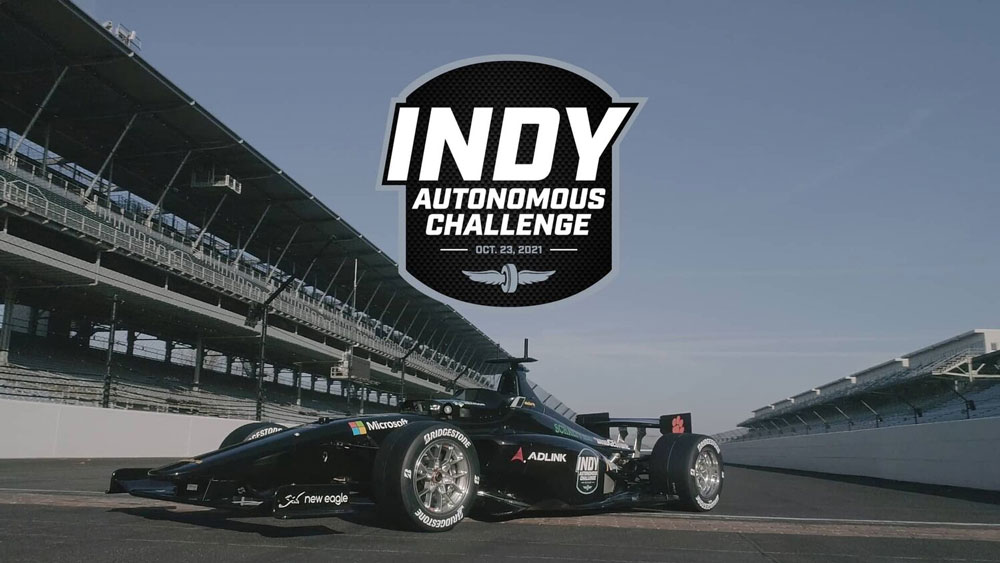 Powering the Indy Autonomous Challenge – the World's First Head-to-Head Self-Driving Race
Imagine the famed Indianapolis Speedway as a pack of Dallara AV-21 racecars scream down the track for 20 laps at straightaway speeds up to 200 mph (320 kph)… but nobody is driving. On October 23, 2021, the Indy Autonomous Challenge (IAC) will award USD 1.5 million in prizes in one of the world's first head-to-head, high-speed autonomous races with autonomous racecars designed from steering to computer to survive breakneck racing conditions with no human input. Each IAC racecar has built-in ADLINK AVA-3501 series GPU-accelerated computing platform with the critical job of turning gigabytes of sensor data into pinpoint-precision racing action.

ADLINK, Autoware Foundation, Eclipse Foundation and many more have been contributing to the "IAC base software support" enabling IAC university teams to go race using Open Robotics ROS 2 with Autoware.Auto autonomous driving packages and Eclipse Cyclone DDS with iceoryx zero-copy built-in and Zenoh V2X.
Collaborating with Ecosystem Partners to Accelerate "Autonomous Driving for All"
No engineering feat of the magnitude of autonomous vehicles is possible without bringing together the most capable groups and companies with the requisite expertise and aligning them toward a common goal. For example, ADLINK knows that having the most road-rugged, performance-optimized computing platform is meaningless without the right integrated software solution building blocks. This is why ADLINK partnered with Tier IV and AutoCore to create functional safety middleware for autonomous vehicles and mobile robotics. (Note that this same trio is contributing its work and innovations to Foxconn's global MIH Alliance, a 200+ member consortium devoted to developing an electric vehicle open platform.) The need for an ecosystem is also why ADLINK allied with the Industrial Technology Research Institute to put proof-of-concept autonomous vehicles on real public roads. And it's why ADLINK takes leadership roles in efforts like Eclipse Cyclone DDS and Eclipse Zenoh V2X to advance development of the software that will drive tomorrow's autonomous vehicles and robotics. Whether through fledgling industry consortia or collaboration in major partner programs with Intel, NVIDIA and Arm, ADLINK is helping create the autonomous tomorrow.


AI-enabled Connected Autonomous Vehicle Solutions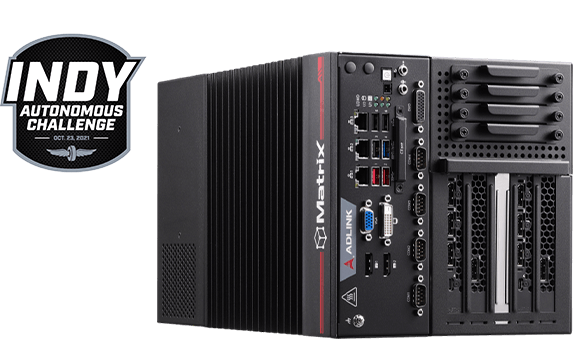 Intel® Xeon® 9th Gen with server grade Intel® C246 chipset
Optional NVIDIA Quadro RTX 8000 or RTX A6000
Ubuntu 20.04

Apex.OS

certified and supported
64GB DDR4, dual SODIMMs
Rich I/O: 2x DP++, 1x DVI-I, 3x GbE, 8-channel Digital IO, 2x USB 3.1 Gen2, 1x USB 3.1 Gen1, 3x USB 2.0
Enhanced storage:
3TB of Samsung 970 EVO Plus NVME M.2 SSDs
2x 512GB hot swappable 2.5" SSD SATA 6 Gb/s system drives

6x CAN channels total

2x 40GbE QSFP+

Supports full length RTX 4000, RTX 6000 GPUs

Optional AC/DC PSU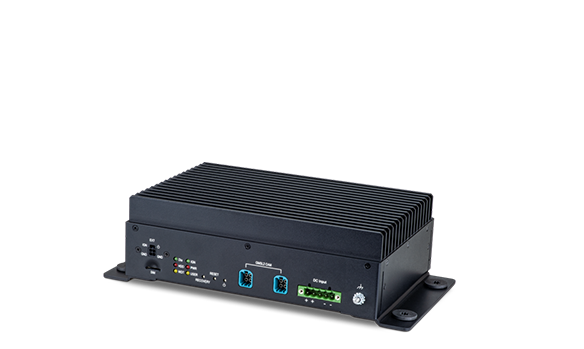 NVIDIA® Jetson AGX Xavier™ module
8x Gigabit Multimedia Serial Link 2 (GMSL2), through 2x 1*4 mini Fakra typeZ
Customizable ignition setting
2x Isolated CAN
1x 10GbE, 1x GbE ports
2x USB 3.1
1x Mini PCIe for LTE or Wi-Fi module
9-36 VDC input with ignition control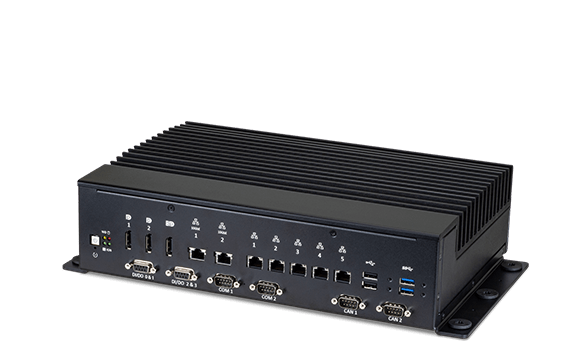 Intel

®

Xeon

®

E processor

NVIDIA Turing™ (NVIDIA Quadro RTX 5000) GPU module

Customizable ignition setting

2x isolated CAN

2x 10GbE, 5x GbE

2x USB 3.0 lockable, 2x USB 2.0

1x M.2 NVMe 2242 B+M, 2280 M (PCIe)

2x Mini PCIe for LTE or Wi-Fi module

2x 2.5'' HDD tray

9-36 VDC input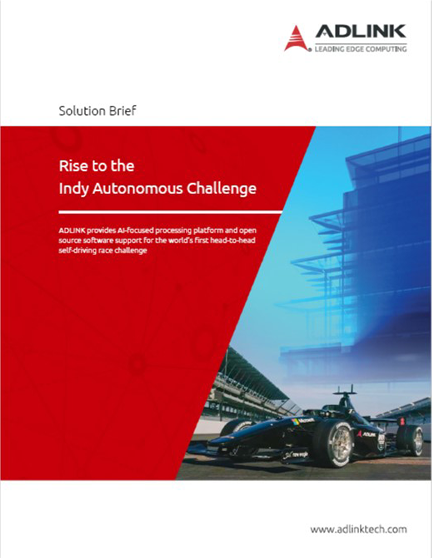 Collateral
Solution Brief: Rise to the Indy Autonomous Challenge
This solution brief introduces ADLINK's participation in the upcoming the Indy Autonomous Challenge (IAC), the world's first head-to-head, high speed autonomous land race. Scheduled for October 23, 2021, the IAC is a two-year competition with $1.5 million in prize money and participants from leading worldwide universities tasked with programming a modified Dallara AV-21 racecar to compete at the famed Indianapolis Motor Speedway (IMS). The autonomous aspect of this race imposes an entirely different set of challenges and requires the implementation of a wide array of technologies which are much more than just hardware. As an official sponsor for the competition, ADLINK is providing the teams with rugged deep learning acceleration edge platforms, engineering resources for in-vehicle computing and open source software support for ROS-based middleware. To ensure the event runs smoothly, ADLINK is helping teams meet the demands of the IAC's tight schedule by providing technical support that leverages 25 years of experience across edge computing, partnership with AI-centric companies like NVIDIA, IoT integration, heterogeneous computing, and networking. ADLINK also brings its extensive experience in system integration and validation/verification to support each team in their quest for autonomous speed.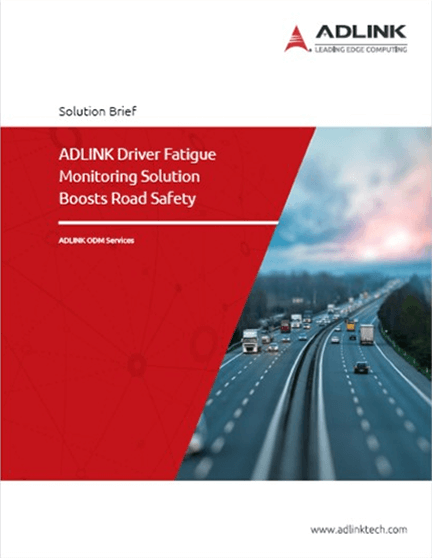 Solution Brief: ADLINK Driver Fatigue Monitoring Solution Boosts Road Safety
The increasing adoption of driver fatigue monitoring technologies can effectively prevent such accidents. Knowing that the stakes here were literally life and death, ADLINK leveraged its industry-leading ODM services, and manufacturing and integration capabilities to create a best-of-breed monitoring solution that met every need set out by the solution provider. Consisting of a quad-core, graphics-rich compute module and surrounding components, including a rugged dual-camera system, the customized solution is built to withstand harsh road conditions and is in use on roadways today to help save lives around the world.