High Precision, Non-Contact Measurement with Laser Displacement Sensor and USB DAQ
Application: Laser Engraving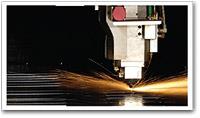 Laser engraving is commonly used in material surface processing on the production line, providing a clean process with high-quality surface finish and allowing materials to be marked "on the move". To ensure an accurate relative starting position for laser engraving, a laser displacement sensor is often used.
The laser displacement sensor features high precision, high speed, and non-contact measurement of displacement, dimension, distance, and position, especially suitable for special surfaces such as lustrous metals used in cell phones and tablet PCs. Using the laser displacement sensor, positioning errors can be less than 1 mm and yield rate dramatically increased.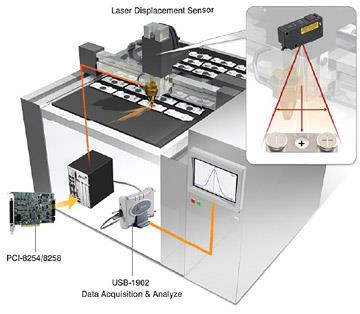 ADLINK Solution: USB-1902 16-CH 16-Bit 250kS/s Multi-Function USB DAQ Module
To acquire and analyze data from the laser scanners, ADLINK's USB DAQ is an ideal solution for system integrators requiring more I/O expansion with limited PCI/PCIe availability. The USB-1902 features 16-Bit high-resolution and maximum 250 kS/s sampling rate, suited to a wide range of measurement requirements. With 2-meter USB cable expansion and built-in screw terminals, the USB-1902 can remain close to the displacement sensor and avoid noise coupling.
*Note: ADLINK's PCI-8254/8258 DSP-based advanced motion controller can also be integrated in laser engraving applications.