High-Speed Digitizer for Power Supply Unit Testing
Application: Power Supply Unit Testing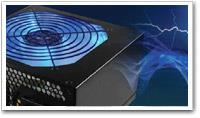 During manufacture of power supply units, quality validation is required before shipping. Critical technical parameters include rising time, overshoot, and turn-on delay, with analysis thereof ideally conducted directly on the processing line.
Conventionally, manufacturers have employed complicated power measurement instrumentation for these duties, with the benefits of precise measurement for all of power parameters, but at the expense of cost and space required. As well, in most cases, only a single unit can be tested at a time, an extreme impediment to efficiency and potential production bottleneck.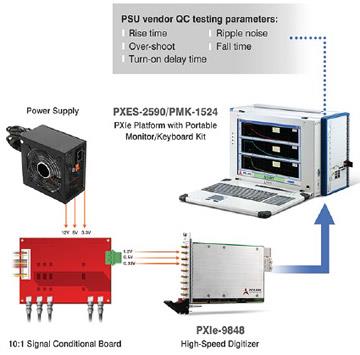 By taking advantage of the inherent modularity of the PXI interface, however, power supply unit test systems can quickly adapt to changing measurement requirements with increases in performance and speed of units to be tested.
ADLINK Solution: PXIe-9848: 8-CH 14-Bit 100 MS/s High-Speed PXI Express Digitizer
ADLINK's PXIe-9848's leading performance provides a serious advantage for Power Supply Unit testing applications. 14-Bit capability detects low ripple noise to µV grade, and the 100 MS/s & 100 MHz high bandwidth can sample µs grade rapid vibrational rise time. The PXIe-9848 easily meets and exceeds customer requirements for additional sampling, utilizing complicated QC characteristic parameters, including overshoot, delayed startup, and many others.In addition, the PXIe-9848's multi-channel design can reduce time-cost & enhance the QC testing efficiency in production, delivering a cost- and eature-optimized digitizer solution. Eight channels of analog input easily measure multiple units at the same time, significantly conserving costs.