ADLINK announces RF Test Solutions as the first distributor for Test & Measurement solutions in New Zealand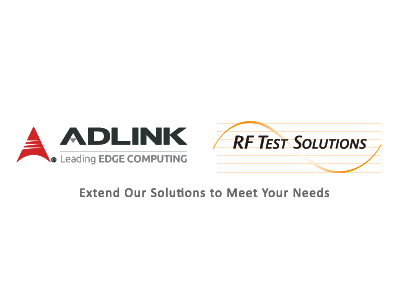 ADLINK Technology, Inc. announces that RF Test Solutions Ltd. is the first authorized distributor of ADLINK test and measurement product solutions in New Zealand. RF Test Solutions is a leading supplier of measurement instrumentation and services in New Zealand with national coverage and on-line sales service. An in-house ISO 17025 accredited calibration laboratory provides after sales repair and calibration for all products sold. With this strategic partnership, RF Test Solutions is now the first authorized partner in New Zealand for ADLINK products, sales, consultation, and local support for all test & measurement solutions.

RF Test Solutions Ltd is renowned for offering measurement instrumentation solutions from the world's leading manufacturers to the New Zealand market, including rental services, consulting and training. The company is expanding its product solutions in New Zealand following this strategic partnership to include the full range of measurement solutions from ADLINK. The distribution partnership between both companies will be the cornerstone of future growth in the local market.

"Today's application needs are complex and dynamic, making it extremely important for customers to identify the right products and solutions for their operational needs," said Vincent Tseng, General Manager of ADLINK's Asia Pacific Regional Business Unit. "The partnership between RF Test Solutions and ADLINK teams up two powerful industry experts that can provide customers with a new approach to tackle their test and measurement challenges with greater support and quality."

"ADLINK adds a very comprehensive and complimentary portfolio of products to our company, allowing us to deliver a wider range of specific measurement options and platforms, as well as provide complete turnkey measurement solutions," said Lex Grubner, Managing Director of RF Test Solutions Ltd.
"We are pleased to welcome ADLINK as an OCP Gold Level Tiered Member. ADLINK's deep technical expertise and core competence in communications and data center platforms aligns perfectly with the evolving OCP mission and the interest of many of our newest communication service provider members," said Amber Graner, director, Communities, OCP. "We are already seeing open collaboration efforts between ADLINK and the OCP community, and we look forward to ADLINK's contribution to the OCP ecosystem."

ADLINK is actively involved in several standards organizations, including PCI Industrial Computer Manufacturers Group (PICMG), PXI Systems Alliance (PXISA), Standardization Group for Embedded Technologies (SGeT), OpenFog Consortium, Network Intelligence (NI) Alliance and the European Telecommunications Standards Institute (ETSI) for Network Functions Virtualization (NFV) and Mobile Edge Computing (MEC). In addition, ADLINK is a part of the Wind River Titanium Cloud Partner Ecosystem, a program dedicated to accelerating the deployment of solutions for NFV, and provides Wind River's Titanium Server software as an integrated solution on ADLINK's Modular Industrial Cloud Architecture (MICA) and SETO-1000extreme outdoor server; the integrated solution targets NFV/ software defined networks (SDN), MEC and IIoT deployments.
ABOUT RF TEST SOLUTIONS
Operating since 2001, RF Test Solutions is New Zealand's leading supplier of test and measurement instrumentation and associated services. The company performs a critical role in allowing technology researchers, designers, educators and manufacturers to deliver world class outcomes. The company also gives significant support to the technology infrastructure of New Zealand, supplying products and services to a wide range of service providers. Facilities include the largest fully commercial electrical and RF ISO 17025 calibration laboratory in New Zealand. Additional information about RF Test Solutions is available at
https://www.rftest.co.nz