Fast Recovery of
Your AI Surveillance Camera
Remote PoE diagnostics for
quick troubleshooting

AI Enhances Public Safety in Smart Cities
Smart cities are using sensors, Internet of Things (IoT) devices, and video cameras to manage public safety resources more efficiently. Surveillance cameras are a key element of smart city solutions with convenient access for maintenance being a priority. However, these cameras are usually installed in high places creating maintenance challenges that can have a negative effect on achieving video security goals. ADLINK EOS-JNX-I is designed for smart city edge AI vision applications with Smart PoE, PoE Loss Detection and an uplink port to provide easy integration and maintenance that can readily fit into existing monitoring systems.
Why Smart PoE AI Vision System
Smart PoE Management
API provided for switching PoE on/off to reset the camera remotely, lower the inconvenient and risky of manual operation
Non-stop Monitoring
Special power design makes the video stream and PoE work continuously even if the EOS-JNX-I crashes or reboots.
Born for AI Surveillance
100% ONVIF compliance and 1Gb uplink port for high NVR/Camera connectivity and reduced cabling
PoE Loss Detection
Provides proactive alerts through active DO if PoE power is unexpectedly cut off, reducing downtime.
Edge AI Computing
Empowering AI at the Edge for Smart City solutions with NVIDIA Jetson Xavier NX
Fast Edge AI PoC Deployment
GUI based no-code platform EVA SDK supported for fast kick-starting AI vision applications. Learn More
Key Features
Enhanced Connectivity with Rich I/O in a compact form factor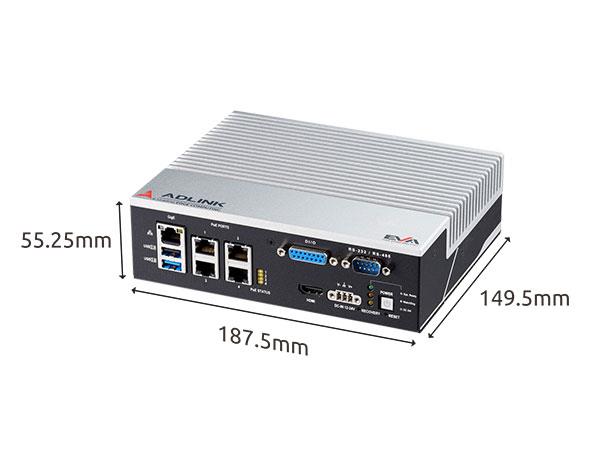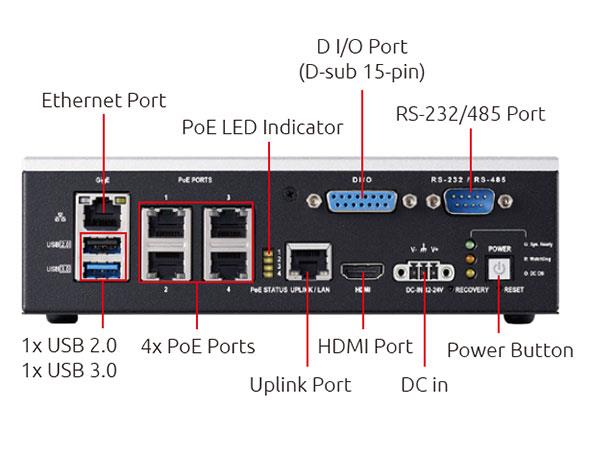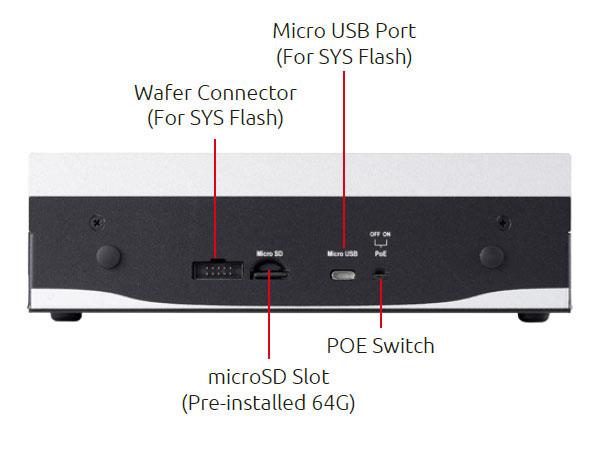 Enables AI deployment safely, quickly, and easily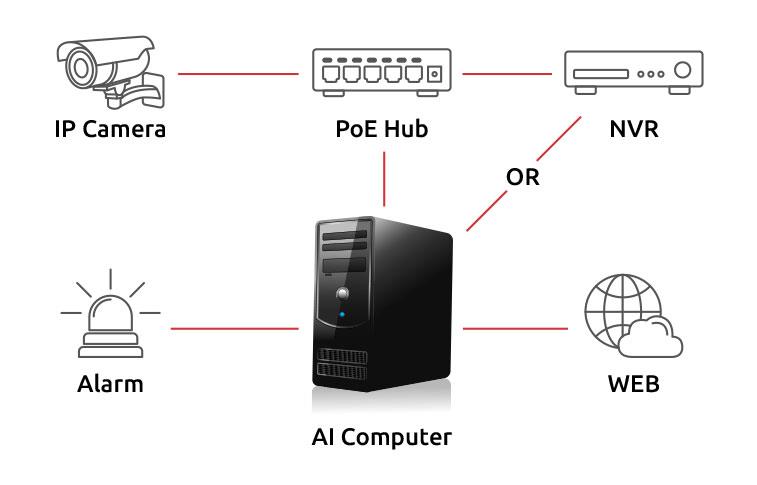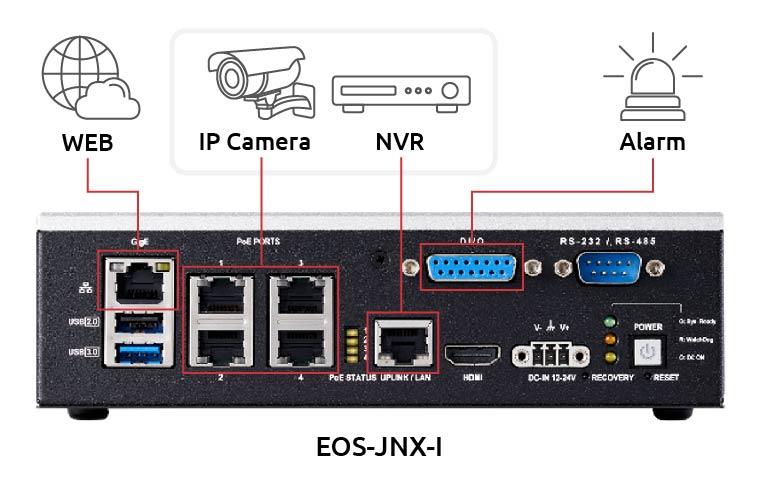 Use Case
Real-Time Edge AI Vision Analysis Reduces Traffic Gridlock

ADLINK's AI vision system can add edge AI application capabilities to existing traffic monitoring systems with minimal changes to the existing architecture. In cooperation with a smart transportation solution provider, which has rich experience in smart city solutions, the traffic sign recognition AI algorithm combined with pedestrian and vehicle detection at intersections is put into ADLINK's EOS-JNX-I vision system for edge inference, and real-time analysis. When triggered, the management unit will be immediately notified to deal with the situation, and the data will be sent to the control center for analysis, which can effectively improve the transportation in your city.
EOS-JNX-I

NVIDIA® Jetson Xavier™ NX Edge AI Vision Inference System

NVIDIA® Jetson XavierTM NX AI System for IP camera surveillance
Wide temperature range from -20°C to 70°C
Pre-installed 64G microSD with OS and M.2 2280 slot for PCIe SSD
Supports 12V to 24V DC-in
4 PoE ports supporting 60W total power